In February I took a trip to Palm Springs with my children to enjoy some time in the outdoors. We had cool and rainy winter around San Francisco, but Palm Springs is in the desert so dry weather is likely. This is immediately visible in the airport where most of the area is outdoor. We were lucky though, the hotel checkin staff told us, because they just had a week of rain. We enjoyed 70f/20c this weekend and it was nice. We had two destinations planned: Joshua Tree National Park and Indian Canyon. We brought 3 cameras (SLR, Polaroid and Film) and our Iphones with Moment Lenses. Here are some of our impressions from the trip caught on digital...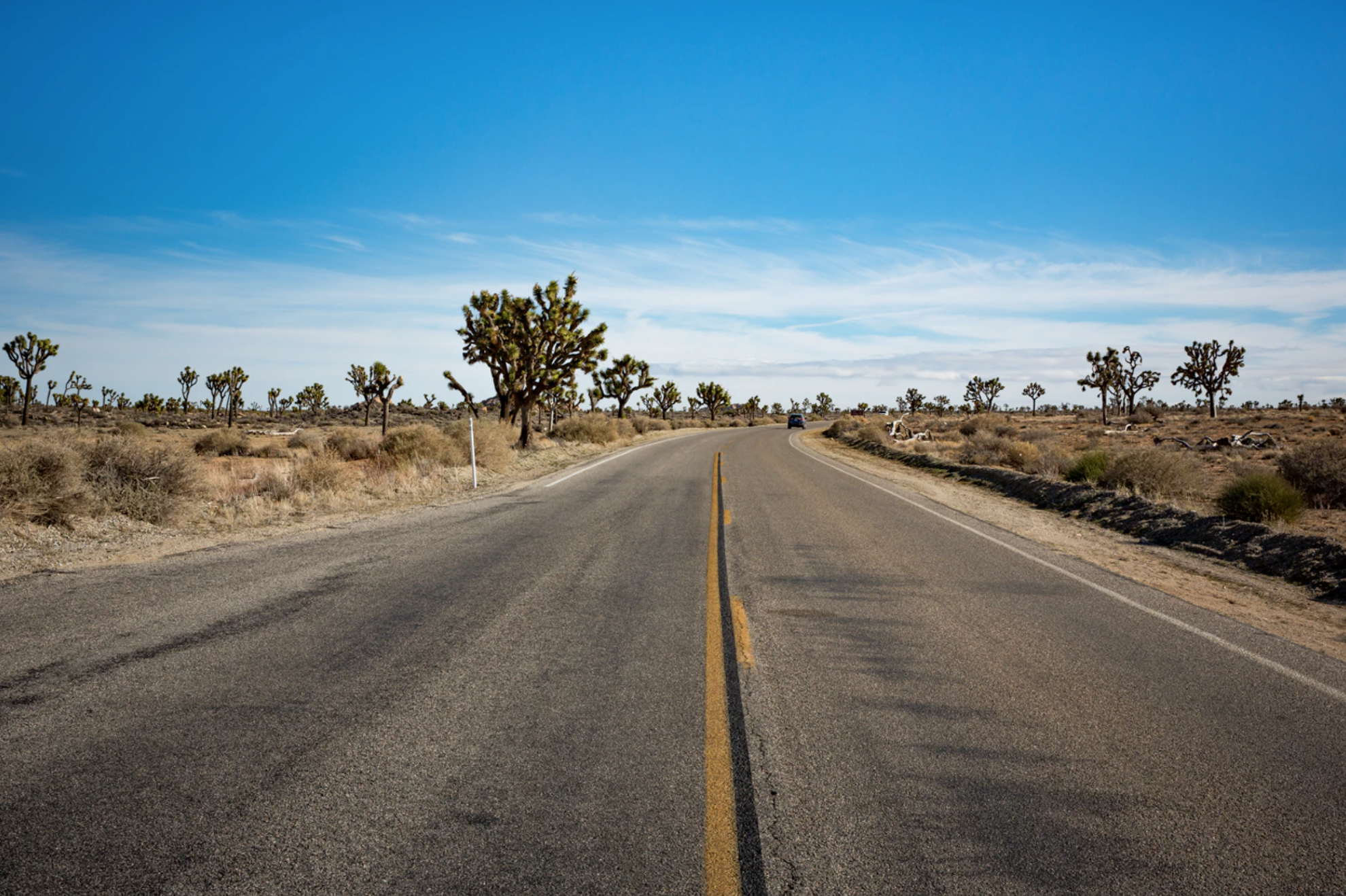 Joshua Trees National Park
On our first morning we drove to Joshua Tree National Park which is a 50 min. drive from Palm Springs. The Joshua trees are the first you notice as you approach the Yucca Valley near the entrance to Joshua Tree National Park on the North side. They look funny and odd, but they are fast desert growers going up 7 cm per year the first 10 years and then slowing down. They got their name by Mormon settlers because the trees reminded them of a Bible story in which Joshua reaches his hands up to the sky in prayer. We were reminded of Dr. Seuss :-) instead.
Barker Dam
There are many trails to explore inside Joshua Tree National Park. We drove from Yucca Valley to 29 Palms. We first stopped at Barker Dam to see the Dam and explore the rock formations in that area. Its a short 2 mile round trip hike and very easy. We were there a couple of years ago, but at the time there was almost no water there. This time there was a small lake so it was a different experience. The opening photo for this story was taken at the top on some rockformations near Barker Dam.
Rock Climbing
The best part of hiking in Joshua Tree Park according to the kids is the rocks and the uneven trail. We climbed several rocks and enjoyed the view from the tops. Our last stop was at Split Rock and this area also has a lot of interesting rockformations. Next time I come I would love to camp inside the park. There are several campsites out in the rocky areas and the view of the stars and the milky way should be amazing. Even though it was still winter and it was not that warm in the park three of the camp grounds where fully booked, so it is a popular camping place.
Not the last time! There is so much to explore here. You should try it. I will be back some day again.
Indian Canyons
The next day we went to Indian Canyons in Palm Springs. It is located just south of the town and consists of three canyons. We started at Palm Canyon by the Trading Post.
Palm Canyon
Palm Canyon is 15 miles long, but we only walked a small part of it. There were lots of water in the stream and a couple of places we had to walk through it or jump from rock to rock. William got pretty wet shoes, but he enjoyed it nonetheless. The canyon is quiet and cool. It must be the favorite place to be during the hot months.
We walked for about a mile and then came to a more rocky area with a small waterfall. We spent some time there exploring, getting wet feet and just enjoying the calmness and warmth. This canyon trail is out and back up, so you can make it as long or short as you enjoy.
Andreas Canyon
Next we stopped at Andreas Canyon and walked the short loop trail there. This canyon has some dramatic cliffs on one side where you walk along the creek and palm trees. The way back is overlooking the canyon and without any shade. There were lots of picnic tables and people enjoying the trails. We spent most of the day in the canyons and then headed back to the hotel swimming pool while the weather was sunny and warm.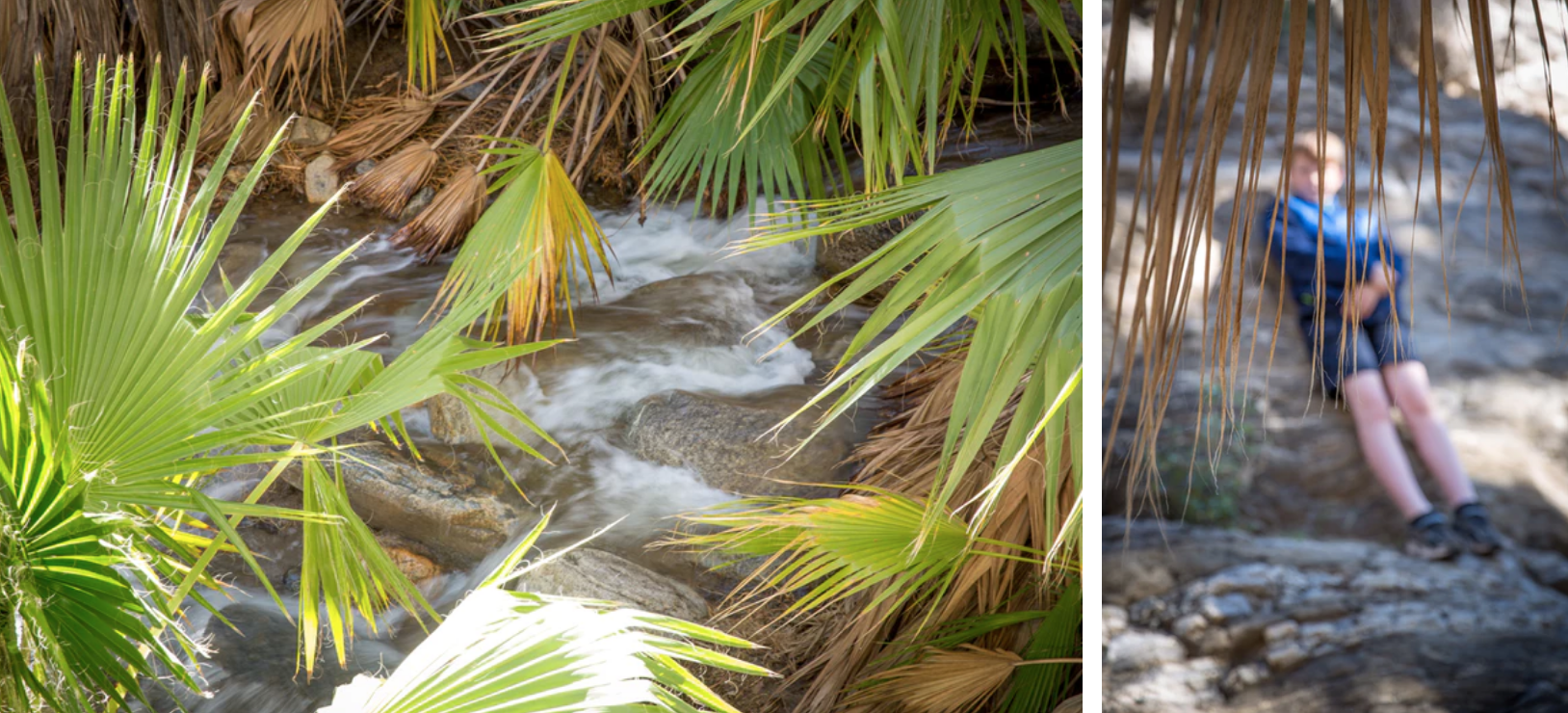 Palm Springs
The last day before heading home we spent some time at the Palm Springs Museum of Art and also driving through some neighborhoods to get a feeling of the architecture. The Art museum is not very big, but it was nice and we especially enjoyed the modern art section. The is an the architecture and design department too, but we did not have enough time to visit it this time. Palm Springs is considered the cradle of midcentury California modernism and has a wealth of midcentury houses.
Palm Springs does not have many high buildings and therefore there is a good view of the mountains everywhere. Here are a few houses we photographed on the way to the airport.
Back at the airport we discovered that we had lots of time left to spend. Our flight was delayed because of high winds in San Francisco. So we enjoyed the outdoor area and spent time reading and having coffee and snacks. Just after take-off we flew into the rain approaching Palm Springs. I guess we timed this trip pretty well!
Photography by Birgitte Heiberg Andersen & Andrea Heiberg Andersen